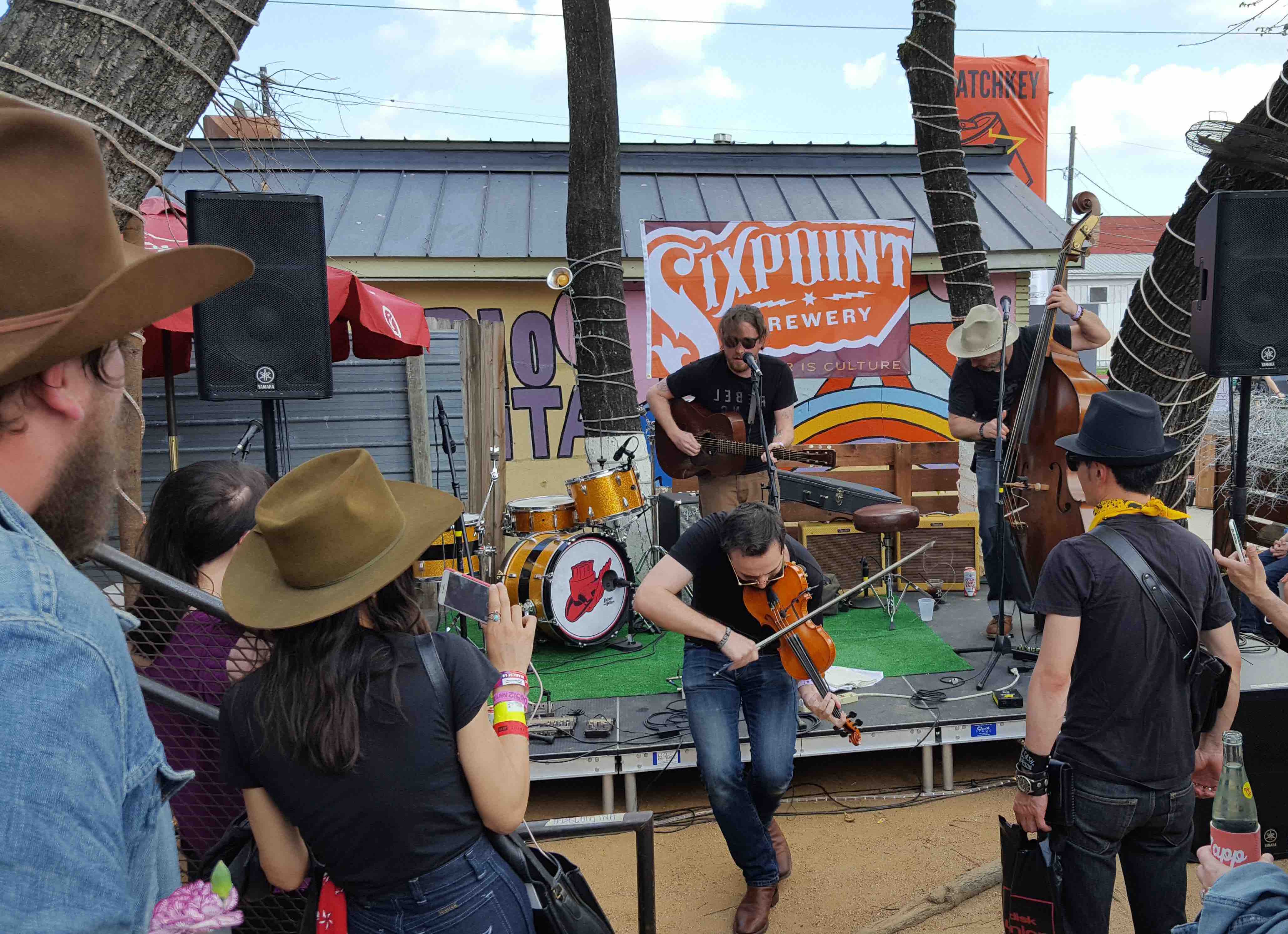 One of my favorite things about SXSW (well, after the music) are the crazy comments that you hear along the way. Here are a few choice selections from SXSW 2017.
---
I hope your life has meaning after SXSW. Har Mar Superstar 
---
There's a fine line between radical folk, punk rock and kumbaya.
 Otis Gibbs
---
This song is called "Lyin Through Your Teeth." It's about dentists.
Blackfoot Gypsies lead singer Matthew Paige
---
If anyone doesn't think that fits, let me know and I won't be offended.
 Raul Midon on his new album,
Bad Ass and Blind
---
So Garth Brooks. He's cool again, right?
 Mando Saenz
---
I'd like to dedicate this show to Halls honey lemon cough drops. And whiskey.
 Matthew Logan Vasquez on losing his voice at his 11th show 
---
If you see me striking a folk god pose, it's just because I'm reading the words to the next verse on my guitar.
 Otis Gibbs
---
We're just playing the new record that's not out yet but it's on sale over there because Bloodshot [Records] just don't give a fuck.
Cory Branan
---
Anyone who's been married, divorced or drinks too much will understand this song.
 Tommy Stinson introducing his new song "Zero to Stupid" 
---
Door guy at a day party:
What's in the bag
Me:
Ribs.
Door guy:
Nice.
(Pause as I walk into the club)
Door guy:
Hey, you can't bring ribs in. You gotta leave them with me.
---
I love religious people and I also love drag queens. And I don't understand the divide between the two.
 Mark Eitzel
---
This is a very lovely family filled event. Sorry for the cursing on the last song.
 Partybaby guitarist Noah Gersh during the band's performance on the Whole Foods rooftop
---
Instead I'm going to leave my pants on and play a song by the Pixies.
  Beach Slang singer James Alex introducing a cover of "Where is my Mind." Context is everything.
---
I hope you guys will sing along. Otherwise it will be awkward.
  Otis Gibbs intro to a sing along
---
You with your arms crossed, sing!
  Jon Dee Graham encouraging a sing along
---
Thanks for asking for 2 songs I know how to play.
 Langhorne Slim taking requests at his late night showcase
---
This is an oldie but a goodie. We've made tens of dollars from this song.
Whiskey gentry guitarist Jason Morrow introducing the band's song "Preachers Daughter"
---
Of all the things written about Beach Slang, two things have never appeared. First, the word "professional."  Second, how much of an influence on us Santana songs featuring Rob Thomas are.
  Singer James Alex as the band vamped on Santana's "Smooth"
---
My name is Austin and I'm in Austin. And it's 3/16.  I think I can find some connection that makes me a professional wrestler.
 Austin Lucas
---
When I'm damn fucking good and ready.
 Tommy Stinson on when he'll play his next song
---
I wore my day drinking shirt because I knew that was going to happen.
 Beach Slang James Alex after spilling a drink on himself
---
That was our version of a slow song.
 Sandanistas singer Dan Hagerty. It was anything but.
---
Here's an anti-police brutality song that Bloodshot [Records] has been taking the flack for since I put it out. I don't know who is anti-police brutality.
 Cory Branan introducing his new song "Another Nightmare in America."
---
About the author:
Mild-mannered corporate executive by day, excitable Twangville denizen by night.
---