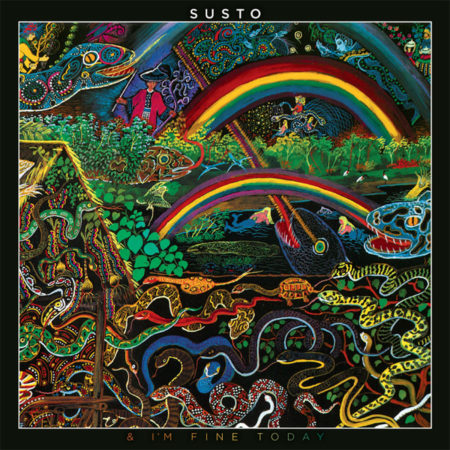 "If it's in a Susto song, then it really happened" says lead singer/songwriter Justin Osborne during our recent chat about the band's new record & I'm Fine Today. "I mean, unless it's something like our Jesus Christ beach song." Although, I guess they could be hanging with Jesus, or some other entity with songs such as the first single, "Waves", where Osborne screams "Is there anybody out there/controlling the tides." Or "Diamond's Icaro" that is a straight up gospel song. Most of the songs on & I'm Fine Today reference a higher being, heaven, or something along those lines, so when I asked Osborne if he struggled with religion I was shocked to hear him say no and that he "feels spiritual more than thinks spiritual."
What he hates is the frame of mind that often comes along with being a Christian in the South. You can see this on songs such as "Gay in the South" when he sings "They promised us you were going to straight to hell when you died/I don't even think it's a real place." Or on "Cosmic Cowboy" where he straight out says "I'm a Southern man but I'm an atheist." But if he is an atheist, he's a different breed than what is normally encountered.  Maybe he and the others in the band are still trying to figure stuff out.
But hey, I'd say a lot of folks are, and that's part of the charm of this record. You grow up immersed in something, then get a bigger picture of the world one day and wake up screaming, "Hey now, what the hell were they saying? That's BS!" Ok, enough about me, back to Susto…
The album was recorded in a storage unit in Charleston, South Carolina by Wolfgang Ryan Zimmerman and his work is superb. I've listened to the record ten times or more since receiving it around Thanksgiving, and have to say that it will definitely be on my Top 10 for 2017. It'll be the best psychedelic folk electronic record you hear all year, I guarantee you that.
BUY THE ALBUM & I'M FINE TODAY
RIYL: Losing My Religion, Illegal (in some states) drugs, Things that are good
---
About the author:
To change this standard text, you have to enter some information about your self in the
Dashboard
->
Users
->
Your Profile
box.
---