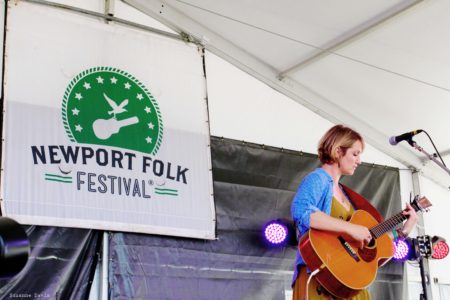 Joan Shelley Emerging Artist Interview
When I first heard Joan Shelley's 2015 album "Over and Even" I was stunned. In a year where I came through a broken leg with an infant at home, it took me a while to warm up to the power of music again. Maybe it seemed like family and people were most important. The contemplative nature of music, especially singer/songwriter music just seemed so separate. Then in the dead of winter the door opened with Sufjan Stevens "Carrie & Lowell."
Shortly after, I watched the Tiny Desk Concert on NPR of Joan Shelley. It blew me away. I got a chance to sit down with Joan at the Newport Folk Festival to talk about the album and her history with music. Her record is a revelation in terms of musicianship, emotive vocals, and contemplative lyrics.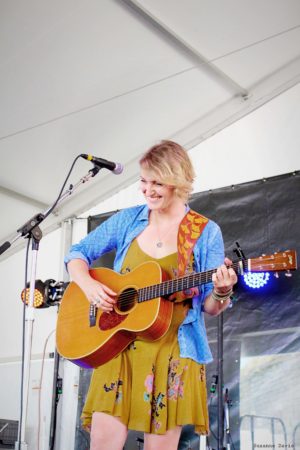 Shelley's song "Easy Now" broke the singer/songwriter genre back open for me. She and guitarist Nathan Salzburg show such poise together. Her lyrics open a window into the end of a painful experience for her and resonated for me too. I asked her about the song and this is what she said:
"My friend had lost his mother and I was also channeling a few other things that had been lost recently and people that were making there way through and that voice that kept coming back to me when I picked up an instrument. 'We have to gather our strength.'"
Shelley's song comes together to really encapsulate the feelings at the end. One particular line that spoke to me was "To the friends who stuck around / Go and hold them closer." It was a  unique experience for me to feel the isolation after a difficult injury or loss and them come through it, which is what the song meant to me.
Joan has a unique understated emotional delivery. I asked her about the performance and how the story or emotion  of writing the song is the most important or if it's more about hitting the notes:
"Originally I was making the notes happen. But then, I realize once you get it that there's no more fear of messing up so much. Then I do go back there (emotionally), every time I say you or me that I flash those people in my head. Sometimes I'm listening to the band and then little vignettes show up."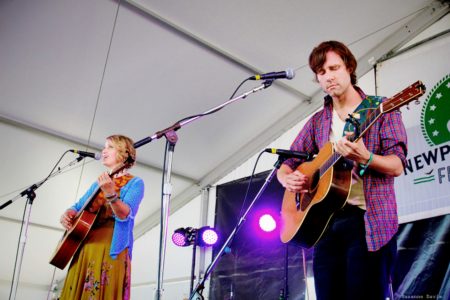 Joan has talked in interviews about her shyness and how her musical performance has helped her to overcome her trepidation to speak up. She spoke about certain windows in to her inner thoughts and feelings.
"It's certainly an adrenaline rush. And it's something that I've always kind of noticed a sick pleasure in the amount of fear that I'm putting on myself and I was shy socially. And very much somebody wanted to fit in and not be noticed. Melodies would show up and it was one little window where something I actually thought came in. Whereas normally I was agreeable and  wanted to not to push any buttons so that came through thank God. I did it in my bedroom for most of my life when I was itty bitty. Then I figured out a few tricks and just put it in front of people."
Joan explains the thought process of a sensitive young person who had an abundance of hidden creative talent. Joan also showed some gratitude at being able to find this outlet. The arts certainly are an important outlet for many people who have may not be comfortable socially. Joan and I also talked  about the moment when she realized that she could pursue a career in music:
"I never thought of it as a career path. Eventually I'm going to have a role in society. I was still searching to try and be a legitimate person. I was touring with Daniel Martin Moore. I was backing him up on a European tour and I saw how much dignity they give musicians (like e a place to sleep). Like be invited. Like Ireland was a big inspiration.I was at a folk club called De Barra's. People there were listening so hard. And they wanted you to do well but they were also critical. I though I could do that. They were discerning."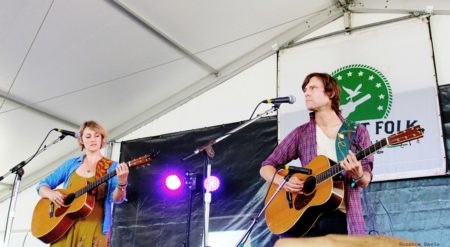 Joan's recordings show a voice (vocally and lyrically) that breathes new life into the singer/songwriter genre. Her most recent album hits a new stride that scrapes away the excess and lets the beauty in her songs breathe.
Photos by Suzanne Davis McMahon
---
About the author:
Jeff is a teacher in the Boston area. When not buried correcting papers, Jeff can be found plucking various stringed instruments and listening to all types of americana music.
---