After listening for the first time to Boo Ray's latest record, Sea Of Lights, I went to his web site.  He compared his approach to making a record to like being on a dirt track race team.  Damn.  To anyone who's ever done that, it says all that needs to be said about a work ethic.  You're going to have half of what you need and do twice as much as the crowd expects, like a redneck Macgyver.
Speaking of which, the first song on the disc is Redneck Rock & Roll, and it sets the stage pretty well for the rest of the music, where "it's got to be country, it's got to have soul."  Throw in some twin lead guitar and a pedal steel, and you've just about defined southern rock 'n' roll.  The title track evokes that sound, with a lyrical nod to what keeps Ray going back to Los Angeles.  It's the same deal with Chickens, an uptempo, slide guitar version of the Hayes Carll and Ray Wylie Hubbard tune.
Somewhat surprisingly to me, the songs I gravitated to more after a few listens were the slower ballads.  A Melody, Some Guitars & A Rhyme eloquently explains the relationship between music and Saturday night where the song lets you "almost taste the whisky."  The album finishes with a couple of love songs.  These aren't to a girl or family, though, they're to the local bar.  One More Round is a little more generic and could be about anywhere, but Johnny's Tavern sings the praises of a place where "the cobwebs are older than the finest wine."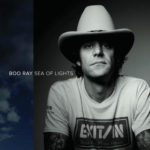 The liner notes say the record was recorded live to the same Ampex 2″ machine that recorded Dylan's Nashville Skyline.  That seems somehow appropriate.  Sea Of Lights is a timeless example of the American rock that's been springing from the chitlin' circuit for half a century. Or, you know, from a dirt track racing team.
---
About the author:
Support new music. Listen to a band or singer you've never heard of this week. I've been doing that for over 30 years.
---