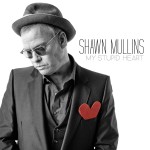 On his first album in five years, Shaw Mullins releases what is perhaps his best album. "My Stupid Heart" is a virtual dead heat with 2006's "Ninth Ward Pickin' Parlor" as his career best. "My Stupid Heart" exhibits a diversity of styles. The core of the album, as always, is Mullins melodic songwriting. There is a Pop foundation from which all of these songs are built. From that base, the songs are layered with his other influences from New Orleans style Jazz, Gospel, Folk and even a little Country. As diverse as the musical styles are, the subject matter of the songs is just as varied. There is no overriding theme on this record. Instead you have everything from love songs to social commentary and he mixes in a little humor along the way.
The album starts out with a reflective tune "The Great Unknown", in which a wistful pedal steel guitar sets the tone. In "It All Comes Down to Love" he takes a tongue in cheek shot at the myriad of people who trying to con us into believing they have the answers. This song is followed up by a more serious social commentary on the Gospel influenced "Ferguson". The troubadour in Mullins shows up on the song "Roll on By", which has an addictive melodic rhythm fueled by an up-tempo mandolin. The darkest song on the album is "Go and Fall" a song about a relationship dying a painful death. The album ends with a hilarious and funky New Orleans meets Beale Street song called "Pre Apocalyptic Blues". It serves as a survival manual for the apocalypse, whether from Zombies or Commies.
"My Stupid Heart" is straight forward entertaining album that is enjoyable from the first listen and the many other ones that will follow. Although beware this album is habit forming and could lead to a more serious addiction.
---
About the author:
Chip and his family live in Birmingham, AL. Roll Tide!
---