You could probably argue that all music, regardless of genre, falls into two categories.  There's music celebrating (or bemoaning) the here and now, and there are songs that take you back to a time or place.  The latest release from Colorado-based Taarka, Making Tracks Home, does a superb job of exploring both of those buckets in a European-Americana kind of way.
 Starting with the last song on the disc, Waterbound has a Celtic lilt with a forlorn trumpet that feels like the lament of a sailor longing to be home.  Moon Song interleaves more a gypsy feel and highlights the vocals from Enion Pelter-Tiller, half the husband and wife team that makes up Taarka.  River's Eddy Blues also features Enion's vocals and violin along with husband David's excellent jazz guitar work.  A cover of Gillian Welch's Look At Miss Ohio comes across as more of a journey than the original's set of wry observations.
The current tense part of the album is probably best heard in The Lark And the Owl, an upbeat number that explains the lark, "gives up her dreaming to get the days work done, she was born to be exactly who you see."  Trip To Duncan adds some Celtic flair to what's essentially a bluegrass instrumental tune, as is Crocodile Tears.  Old Waterford Town is that same bluegrass style, but this time featuring David Tiller on vocals.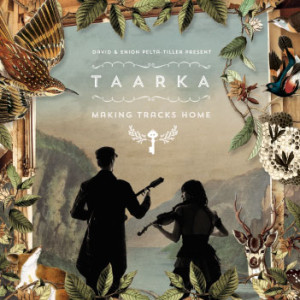 Over the last few years the style of eastern European folk music has impacted the indie music scene.  It's always been part of the folk scene of course.  On Making Tracks Home, Taarka has managed to blend even those styles to create a sort of neo-Balkan indie grass record.  You should check it out.
---
About the author:
Support new music. Listen to a band or singer you've never heard of this week. I've been doing that for over 30 years.
---