A few years ago I saw Casey Driessen at a music festival down in Austin.  Of the perhaps 100 people backstage at the moment, I'd guess half of them were fiddle players.  Every fiddle player who was performing that day was there.  It was impressive to see all that talent make their way to see someone who was an inspiration for them to improve their art and skill.  Bela Fleck has that effect on banjo players.  Chris Wood for bass players.  There are just a handful of musicians that have that unique combination of physical skill and creative ability that set the bar for the rest of the world.  Listening to the just-released first album from Haas Kowert Tice, You Got This, I wonder if I'm hearing the early career of someone else that will make that exclusive club.
The group is composed of Brittany Haas on fiddle (Darol Anger, Crooked Still), Paul Kowert on bass (Punch Brothers), and Jordon Tice on guitar and seemingly the chief songwriter of the group.  These three have been playing together since college, but careers took them to other groups, only to discover how much they enjoy making their own music.  The album is a completely instrumental work.  Haas and Kowert seem to shine a little more when it comes to specific licks and catchy phrases.  But it's Tice's work on the guitar that holds everything together and makes this a band, not a trio of individuals who happen to be playing on the same record.
Without a background in music theory, I'm somewhat challenged to even describe to you the music on this disc.  Grandpa's Cheesebarn has a combination of staccato solos and flowing melodies in interesting keys that remind me of the first time I heard Igor Stravinsky.  Classical, bluegrass, I don't know how they're even remotely related, but it somehow seems that way.  Better Off is like chamber music for bluegrass instruments.  The Switchback Games have a dissonant sound in the intro and segues that really holds your attention.  El Camino has a walking bass and flowing fiddle that just says wanderlust to me.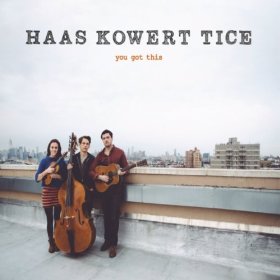 Although I'm hard pressed to explain exactly why I like You Got This, it's something I threw in my CD player a couple of weeks ago and have found it really hard to not keep going back to it.  So if you're interested in some Americana that's off the beaten path, but still sucks you in, I recommend Haas Kowert Tice.
---
About the author:
Support new music. Listen to a band or singer you've never heard of this week. I've been doing that for over 30 years.
---