Standing in a meadow at 10,000 feet, the first thing you notice is how the air is so incredibly clear.  Objects, even distant ones, have a sharpness that doesn't seem quite normal.  Then there's the vegetation; a surprising amount but it's never lush.  Everything has some white, whether it's the bark of the aspen, the edge of the lichens that cover the rocks, or even just the lack of color in the scrubby trees eking out an existence in the altitude.  Finally, there's the movement of the air.  There is simply no concept of dead calm.  Together it all adds up to make you want to just stand there and revel in the scenery.  Yet at the same time, you realize you have to keep moving because the beauty can lull you to sleep at your own peril.  That conflict of emotion is well represented in the debut album from Austin-by-way-of-Montana resident Breting Engel.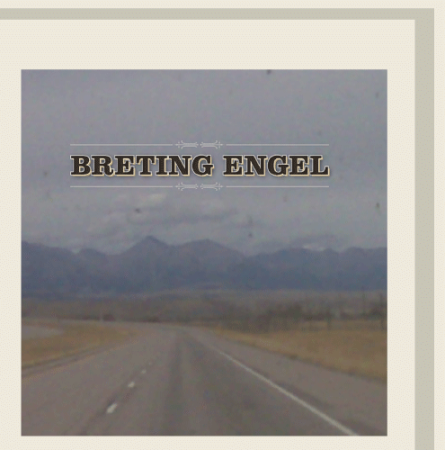 Fundamentally, this album is acoustic folk music.  Nothing much is genre bending, with the possible exception of Riudoso Astronaut that adds a Mexican flavor to a story about a high desert resident.  But there's a richness to this record that isn't even hinted at if you think of the folk stereotype.  There's a sense of foreboding lurking in the corner on songs like Sleep Standing Up and Lay Down Your Gun.  Some of that is courtesy of collaborator Brian Standefer's cello, but it also comes out in some of the guitar picking from Engel and guitarist Jeff Plankenhorn.
More important to the richness are the vocal and musical harmonies.  On Somewhere there's the ghost of an old Simon and Garfunkel tune with its humming as a choral accompaniment.  Avalon features a sort of dual lead guitar sound, while Starting Tomorrow features some tasty mandolin. Album closer Down To My Soul adds a bit of bluesy harmonica and steel guitar to an almost Dylan-like vocal delivery.
The other name I'll drop as someone that surely was an influence to Engel is Nick Drake.  Like no popular music writer before him, Drake had the ability to place you inside a fleeting emotion, and there's definitely some of that on this record.  That reason alone, even if nothing else I've written got your attention, should inspire you to listen to this release.
---
About the author:
Support new music. Listen to a band or singer you've never heard of this week. I've been doing that for over 30 years.
---