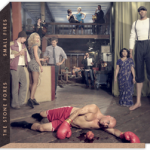 What is it in the current music industry that allows undeserving bands to become icons? Why is it that so many other bands that deserve to be icons do not get the notoriety they deserve? Why aren't the Stone Foxes playing in large arenas in front of Lighter flames and screaming fans? They should be! As for the problems in the music industry, it would take volumes to address that issue.
Whatever your favorite flavors of Rock and Roll, the Stone Foxes deliver. This San Francisco Bay area Rock band opens a whole can of whoop ass on their new album "Small Fires." The blend of Rock styles is delivered in a straight forward package that is reminiscent of days when music didn't have to sound like it was created in an art school basement, like so much indie rock tries to do these days. To be sure, there is also lyrical depth on "Small Fires," but the music is front and center. Producer Doug Boehm (who has worked with Dr. Dog among others) and the band together deliver a collection of songs that is evocative of 70's Album Rock without losing its originality.
The album gets started with a very thought-provoking song that intertwines Edgar Allen Poe's "Tell-Tale Heart." From there it moves into the classic Rock song "Ulysses Jones". My personal favorite song is the Blues infused "Cotto". The title cut represents an interesting diversion from their typical style. It has a post-punk alternative Vibe. It is a good sign the The Stone Foxes are exploring some new direction on "Small Fires." Such exploration suggests future growth. On this release, The Stone Foxes display collection of songs that show they have staying power.
Audio Download: The Stone Foxes, "Everybody Knows"

Audio clip: Adobe Flash Player (version 9 or above) is required to play this audio clip. Download the latest version here. You also need to have JavaScript enabled in your browser.
---
About the author:
Chip and his family live in Birmingham, AL. Roll Tide!
---