Here it is Friday afternoon before a long weekend for most, and spring break for many (or Ski Week, as it's called here on the left coast).  For lots of people that means a road trip of some kind, and I can't think of anything better for a long drive than some bluegrass.  Fortunately the debut release from Austin-based Wood & Wire came out last week, and it's a fine, fine bluegrass album in the vein of Old Crow Medicine Show or Yonder Mountain String Band.
Featuring former members of South Austin Jug Band and Green Mountain Grass among others, Wood & Wire build on a couple of musical themes in their self-titled recording debut.  The first vein is a slightly cynical version of the world from the perspective of a ne'er-do-well.  Mexico tells of an escapee's run to the border, complete with the presumably mirror-shaded pursuer's constant admonition, "what say you lay down that gun, son."  Nowhere and Gone reminds us of the less glamourous side of being on the road, and is punched up with some fine fiddle from guest Brittany Haas.  My favorite of the entire album, though, is Rollin' In the Washingtons.  While much of America thinks stacks of hundreds is what defines excess, the boys in the band sing an ode to how much fun starving musicians can have with a much more modest stash.
The second musical vein is a more traditional bluegrass set.  Bet the World with its chorus of "I bet the whole damn world that the sun don't shine like it does when you're mine", is an unabashed love song.  Coal Mining One tells of the time when the company store was the place that had everything you needed, even if it had nothing you wanted.  Fool Out Of Me is, in my opinion, the best of this lot.  Recorded around a single microphone, it just oozes Depression-era acoustics with the sweet vocal harmonies.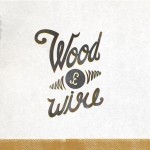 On a final note I have to mention that the nucleus of Wood & Wire came out of a late, late night jam at one of my favorite festivals, Old Settler's Music Fest.  It just goes to show you can't predict inspiration, but if you're open to hearing something new you can absolutely witness it.
---
About the author:
Support new music. Listen to a band or singer you've never heard of this week. I've been doing that for over 30 years.
---