"because there's no such thing as rock stars/ there's just people who play music/ and some of them are just like us/ and some of them are dicks"- Frank Turner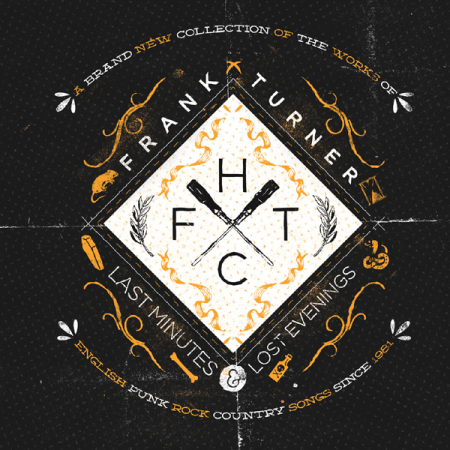 Just who is Frank Turner?
This is the question that confronts the audience on a retrospective like Last Minutes and Lost Evenings. As applied here, it is not really an in your face question, because as retrospectives go this one isn't exactly ambitious. Accompanied by a live DVD and intended more as a cliff notes way for new fans to delve into Turner's back catalog, Last Minutes and Lost Evenings nevertheless can't help but ask 'who is Frank Turner.'
As it turns out, I don't have much of an answer. This is surprising, because for the last two years Frank Turner has been my bible and my companion. I caught him live at the end of 2010 and became a fan. I received my pre-order of England Keep My Bones and became a disciple. I didn't just buy the record. I joined the cult.
Turner writes all kinds of songs, anthems, emotional ballads, folk songs, and more often that not some amalgam of all three. He has the same heart-on-the-sleeve ethos as Ben Nichols and the same ability to write a rise-to-arms chorus as Craig Finn. But despite being obvious kindred spirits, neither the Hold Steady nor Lucero really work as musical comparison.
This may be because Turner is English and quintessentially so. In the same way that Nichols embodies Memphis and Finn will forever be identified with the Twin Cities (despite THS's formation and residence in Brooklyn), it is difficult to separate Turner's identity from his homeland. This is most obvious on 2011's England Keep My Bones, where songs like "Rivers", "English Curse", and "Wessex Boy" pretty straightforwardly reference Turner's homeland and the influence of classic English folk themes. However, none of these songs appear on Last Minutes and Lost Evenings. This is likely intentional.
Turner's music may always set in England, but the real narrative is a personal one. Songs like "Photosynthesis", "I Knew Prufrock Before He Got Famous", "I Still Believe", and "Try This At Home" literally converse with the listener and still allow Turner to crystallize his own guiding principles and vent his own insecurities. This songwriting method is really Turner's trademark and likely what garners him an audience the size of which can fill Wembley Stadium (see the companion live DVD).
However, there is another side to Turner's songwriting that can be easy to miss on first listen. Songs like "The Real Damage" and "The Ballad of Me and All My Friends" lack the optimism of Turner's more rock n' roll work (they also mark the only two songs in existence to un-obsequiously reference cell phones). These songs face a grim reality. The former is a morning after ballad that refuses even a hint of wistfulness. The latter is ruminates on the dead end nature of life (particularly as a folk artist playing dingy bars in West London), but does feature an excellent closing manifesto
None of this is going anywhere –
Pretty soon we'll all be old,
And no one left alive will really care
About our glory days, when we sold our souls.

But if you're all about the destination, then take a fucking flight.
We're going nowhere slowly, but we're seeing all the sights.
And we're definitely going to hell,
But we'll have all the best stories to tell.

Yes, I'm definitely going to hell,
But I'll have all the best stories to tell.
So, just who is Frank Turner? He was educated at Eton, where he played punk rock and spit on Prince William. He later fronted an acclaimed hard-core band, the Million Dead. Then he became a folk rock hero, sold out Wembley Stadium, and moved onwards to world domination (the last part is just a guess). The rest is just "four four time", "cheap, cheap rhymes", and a "sound all [his] own."
P.S. The live DVD that accompanies Last Minutes and Lost Evenings is the full length concert from Turner's sell out show at Wembley. It features Turner's backing band the Sleeping Souls, amazing guest backing vocals from Emily Barker and the Red Clay Halo, and a guest performance with Billy Bragg singing Bob Dylan's "The Times They Are A Changin'". However, my favorite moment is when Turner drags his mom on stage to guest on harmonica. Like most Live DVDs, it will likely only be enjoyed by fans, but the sound quality is excellent and the performances top notch. All of which means that if you are a fan, it is pretty much required viewing.
For more information on the cult that surrounds Frank Turner, check out the excellent fan site Dear Frank Turner.
---
About the author:
Specializes in Dead, Drunk, and Nakedness..... Former College Radio DJ and Current Craft Beer Nerd
---