Five years ago a skinny 13-year-old in black high tops took the stage at Old Settler's Music Fest in Austin and proceeded to leave me, and most of the crowd, slack-jawed at her mandolin skills and innate stage presence.  Fast forward to today and Sarah Jarosz has performed with some of the biggest names in bluegrass; Tim O'Brien, Ricky Skaggs, David Grisman, and Earl Scruggs, to name a few.  About to go off to college, Sarah has released her first album, Song Up In Her Head .  Featuring the likes of Jerry Douglas, Mike Marshall, Chris Thile, Darrell Scott, Abigail Washburn and her mentor Tim O'Brien, she has assembled a group of collaborators a 40-year veteran of the business would die for.  Add to that the production and engineering of multi-Grammy-winning Gary Paczosa and this record practically defines the pinnacle of how to burst on to the national Americana music scene.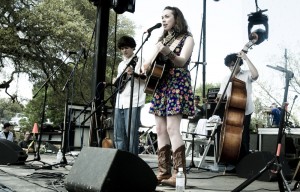 Sarah wrote most of the songs on the album, and through the co-production with Paczosa the overall impression is a radio friendly, newgrass folk sound that reminds me some of Allison Kraus' work.  Dig a little deeper, though, and she's able to express some emotions and experience that bely her youth.  Take for example Long Journey , which tells of the fears of someone about to take on the big wide world and hoping "your love can guide me home".  Or how about her cover of Shankill Butchers .  With his morose and slightly off-kilter style, Colin Meloy didn't surprise anyone with a tale of stuff children's nightmares are made of.  On this album, though, it's a shot from left field.  But it works.  Indie grass, anyone?
Another one of my favorites is Edge of a Dream .  Sarah plays guitar on this one (she also plays banjo and piano in addition to her mandolin), but the vocals are what catch you, with a breathiness and haunting soul that remind me of Gillian Welch.  I also like Little Song , a duet with Chris Thile, and Broussard's Lament , a sad tale of disaster relief that never comes, with Darrell Scott's resonator guitar providing a rich depth to the tale of woe.  Finally, I have to give kudos to her other cover on the album, Tom Wait's Come On Up To the House .  With Sarah's jazzy vocals and mandolin picking, and Sam Grisman's sturdy bass line, this bears little resemblance to a Waits performance and points up how a musician can shed a whole new light on a song.
So even with the high expectations set through the guest musician list and her live music resume, Sarah Jarosz delivers a stunning debut album.  It's probably hyperbole to talk about some baton being passed to a new generation, but clearly Sarah is a shining star and I look forward to her future efforts.
Here's a video of her performing Come On Up To the House at Wintergrass 2009.
---
About the author:
I've actually driven from Tehatchapee to Tonopah. And I've seen Dallas from a DC-9 at night.
---