At some point in just about everyone's life you meet someone, usually of the opposite sex, who you realize is just so sophisticated and charismatic that you have to readjust your scale for those qualities.  At that point the cold hard truth hits you that no matter how much you practice and work at your social skills you'll just never walk through a crowded room with the verve said person seems to come by naturally.  I had that feeling again when I listened to the latest project from Elephant Revival, It's Alive.  I mean, they even take their name from a heart-wrenching tale of 2 elephants who after being separated for 16 years died on the same day.
The EP consists of 8 songs that primarily run down the center line of folk and jazz.  Similar to how Bela Fleck and the Flecktones or The Sparrow Quartet take Americana instrumentation and lyrics and infuse it with jazz style, Elephant Revival is starting with folk roots, but then putting a jazzy wrapper around the whole thing that leaves you feeling more refined just listening to it.  It's what Billie Holiday would have sounded like if she had sang folk.
About half the songs on the disc feature vocals from Bonnie Paine, who give them an artsy, Fairport Convention flair.  The EP starts with What's That, with its ethereal lyrics and a very funky bass line that together make for a unique sound I wish I heard more often.  The finishing tune, Raven Song, showcases Paine in an a capella performance with several band members where she evokes the warbling of a bird that barely seems to come from a human.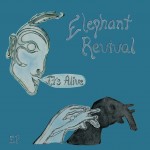 Going back to my note about sophistication, though, there are many other threads running through the album.  Quill Pen Feather casts an indie note to the band's sound.  Tam Lin weighs in with Celtic influences.  To And From is a little anthemic, with Dylan-esque lyrics.  Don't Drift Too Far is a light, bouncy number that keeps everything from being too heavy and, you know, Important.  So the bottom line is even though this isn't a full length record, there's something for a wide range of listeners that remind you how beautiful music can be.
---
About the author:
Support new music. Listen to a band or singer you've never heard of this week. I've been doing that for over 30 years.
---