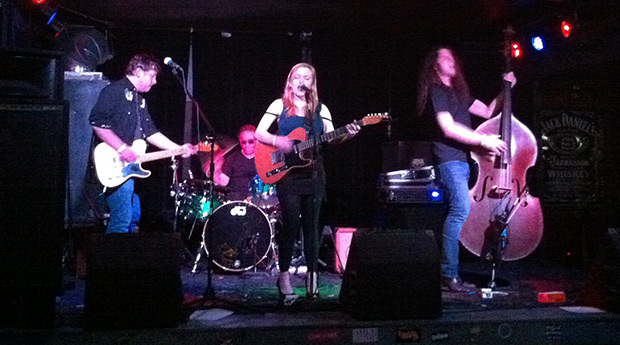 Lydia Loveless performs as part of the Twangville Showcase at the New Brookland Tavern in Columbia, SC
It's that time of year where sinners all over America gather to give thanks to all kinds of things – some simple, some complex, and some that defy explanation. It's no different here at Twangville where this year we're celebrating 7 years and oh what a year it's been.
For starters, back in March we hosted our first ever Twangville Showcase in Columbia, SC featuring American Gun, Mooncussers, and Lydia Loveless. A good time was had by all and hopefully there are more like this to come. We also helped to host a live interview with The Mastersons, another Twangville first.
Taking a moment to thank our authors, please join us in officially welcoming Suzanne McMahon and Bill Wilcox to the Twangville Posse for their amazing contributions this past year. Together they've helped to further elevate the quality articles and reviews you've come to know from Mayer Danzig, Todd Mathis, Chip Frazier, Kelly Dearmore, Eli Petersen, Shawn Underwood, and Jeff McMahon (Suzanne's beau).
While we continue to try to be the place you go to discover the best Alt-Country, Americana, Indie, Rock, Folk & Blues artists, it's only right that we take a moment to thank those artists that make it possible. As we like to say, "twang is cheaper than therapy" and God knows if it weren't for the songs you write and the music you make we'd have a lot more problems that need some fixin'. We can also thank the bartenders for pouring the whiskey – especially the big pours.
I'd also like to thank Stanford and Baylor for putting the SEC back in position to dominate college football yet another year.
We can't go without thanking you for coming back year after year keeping the Twangville audience strong. We surpassed the 1k mark on both Twitter and Facebook so we know you're there. Please continue to share your favorite posts with your friends.
Last, a special thanks goes out to Mayer Danzig who each week starts by helping us to tee up new posts for each day of the week and ends his week witnessing the best the Boston scene has to offer.
In the coming weeks, please contribute to our Readers' Pick Best Album of The Year Poll while we begin to roll out our own personal favorites. In the meantime, let's take a look back at some from the year you may have missed:
---
About the author:
Washington, D.C. area web designer by day. Music is my muse. I host Twangville's weekly Readers' Pick.
---