by Shawn Underwood in Reviews
Some albums require several listenings to really get the subtlety and nuance of the music composition or the power of the thought in the lyrics.  Commander Cody's first studio effort in 20 years, Dopers, Drunks and Everyday Losers is not one of those albums.  This, ladies and gentlemen, is a party album.  If you don't believe me, here are some of the song titles; Roll Yer Own, Wine Do Yer Stuff, Seeds and Stems Again, It's Gonna Be One of Those Nights, Last Call For Alcohol. In the spirit of his earlier incarnations (Commander Cody and His Lost Planet Airmen) and brothers in arms like Asleep At The Wheel and Austin Lounge Lizards, this is a disc that's the perfect accompaniment to Friday night.
The album starts off with Roll Yer Own , a straightforward example of Commander Cody's (nee George Frayne) unmatched style of honky tonk piano.  Along with the slide guitar and pedal steel highlights, this really sets the tone for the album.  Next up is one of my favorites from the playlist, Tennessee Plates , a John Hiatt song about a road trip that goes awry and ends up with our protagonist making, you guessed it, Tennessee license plates.  From there the album goes through a number of tunes including Semi Truck, Down and Out, and Seven Eleven that pay tribute (sort of) to the white trash way of life.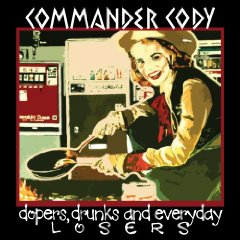 At that point, the Commander does an update of a previous classic, Seeds and Stems Again.  Now, as a poor college student in the 70′s, the original was, well, it was one of those things you could really relate to.  In this updated version, the Commander brought in long-haired, high cheek-boned chanteuse Circe Link to add a beautiful voice to the story of woe.  And as beautiful as her voice is, it's a little like Patsy Cline singing "I want to rock and roll all night, and party every day."  You just don't buy it.  I suppose I just have too much history with the original.  What does work well, though, is the final song of the album, a new version of the old Hoyt Axton song made famous by Ringo Starr George Harrison, No No Song .  With a gentle Caribbean rhythm twanged up just a bit with accordion and pedal steel, this ode to temptation really closes the album on a high note.
So if your music collection is in need of some party music that's slightly off the beaten track, Dopers, Drunks and Everyday Losers will be a good addition.  But I also recommend spending the extra 99 cents and getting the 1971 version of Seeds and Stems Again Blues from Lost in the Ozone.
---
About the author:
Support new music. Listen to a band or singer you've never heard of this week. I've been doing that for over 30 years.
---