by John Anderson in SXSW
Elemeno P, my favorite New Zealand band (since discovering them at South-by '07), unfortunately canceled their appearance this year, but their fellow kiwis in Cut Off Your Hands more than ably stepped in to fill the gap, proving that the spirit of the mighty Flying Nun Records artists doesn't only resonate in Elemeno P. I'd heard the Cut Off Your Hands single, "Turn Cold," on Sirius some weeks prior to South-by and loved it so much I picked up the album right away. That purchase did not disappoint in the least… hell, as addictive as it is, "Turn Cold" may not even the best song on the record, and that's saying something.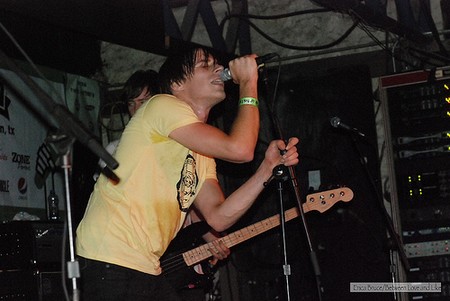 A mediocre-at-best review in Thursday morning's Austin Chronicle of a Cut Off Your Hands set that had taken place the previous night had me moderately concerned going into this showcase later that night. Those concerns were completely dispatched before the first song of the set had even finished. Who knows if frontman Nick Johnston had read the review and was determined to silence the naysayers at the band's next show, but whatever the cause, Johnston was a forceful presence, throwing himself fully into every song with astonishing intensity.
Cut Off Your Hands were the second band up in an indie-pop dance-party of a Thursday night at Emo's for me (following Wild Light and preceding Passion Pit and Peter, Bjorn & John) and, having already been a fan of their album, the strength of their live show clinched them for me as a band meriting wider exposure. If chiming guitar hooks, bouncy bass lines, propulsive drumming, and manic shout-sung vocals sound like your cup of tea, you owe it to yourself to give Cut Off Your Hands a listen.
Start with "Turn Cold," courtesy of SXSW:
Audio clip: Adobe Flash Player (version 9 or above) is required to play this audio clip. Download the latest version here. You also need to have JavaScript enabled in your browser.
Want to read more highlights from this year's South-by? Step right up for all of John's SXSW '09 highlights.
---
About the author:
John Anderson is a SXSW addict, having attended "South-by" every year since 1999. His South-by geekery spilled over into the realm of blogging in 2006, and he is grateful to the Twangville audience for having indulged his South-by ravings since 2008.
---