Craig Chaquico has made the transition from ethereal to earthy in his first blues album, Fire Red Moon.  Chaquico has successfully joined the legion of ex-rockers-turned blues musicians with his latest effort.  But he may be the only one whose path to the blues led through new age music after having spent almost two decades churning out smooth jazz and new age guitar work.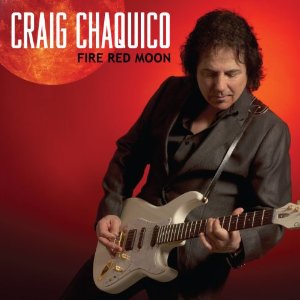 Chaquico, once a guitar prodigy, who, at 16 in 1970 began to play and record with Grace Slick and Paul Kantner of Jefferson Airplane, has traveled far in his journey to his blues debut. With the departure from Jefferson Airplane of Jorma Kaukonen and Jack Casady to their roots-rock side project Hot Tuna in 1974, Chaquico became the lead guitarist for the newly-remodeled Jefferson Starship, later just "Starship." With Kaukonen and Casady gone, Starship became more top-40 oriented than its predecessor (its hits included radio regulars "Miracles" in 1975 and "We Built This City" in 1985), despite the continued presence of original Hot Tuna fiddle player Papa John Creach. When Starship folded in 1991, Chaquico briefly led a hard rock outfit called Big Bad Wolf before launching his contemporary jazz and new age guitarist career, getting a Grammy nomination for "Best New Age Album" for 1994's Acoustic Planet.
On Fire Red Moon, Chaquico ("Cha-KEY-so") shows that he can master the blues. A versatile guitarist, his work on the opening track, "Lie To Me," which is sung by Noah Hunt of Kenny Wayne Shepherd's band, is workmanlike, establishing Chaquico's blues credential right off the bat. Several blues standards follow, including Albert King's staple "Born Under a Bad Sign" (by William Bell and Booker T. Jones), on which Chaquico's piercing, mysterious guitar work holds up next to Elvin Bishop's work on the same number on the Butterfield Blues Band's Resurrection of Pigboy Crabshaw. "Rollin' And Tumblin'" presents a hard-ahead forward take on the Muddy Waters' famous instrumental. On "Crossroads" Chaquico presents an aggressive blues-rock take on the Robert Johnson classic reminiscent of Eric Clapton and Cream. But it is his original instrumentals, the fiery title track, the elegant "Blue on Blue" and the playful, funky "Fogtown Stroll" that best display Chaquico's jazz-inflected (but by no means new age) style with radiant guitar playing.
With his versatile background, we can hope Chaquico decides to continue to mine the blues vein. With his dynamic guitar skills, he may even want to consider doing an entirely instrumental album ala Ronnie Earl & the Broadcasters.  With or without vocals, if he continues to pursue the blues he will fast become a fan favorite.
---
About the author:
Bill Wilcox is a roots music enthusiast recently relocated from the Washington, DC area to Philadelphia, PA and back again.
---