Decades ago, as part of my misspent youth, I listened to a band called the Good Rats.  The closest thing they had to a hit was called Tasty, about a guitar player that could play fast, but he couldn't play "tasty".  Let me just say that any of the musicians on Kathryn Caine's latest release, When I Was His Wife, could get a gig with the Good Rats.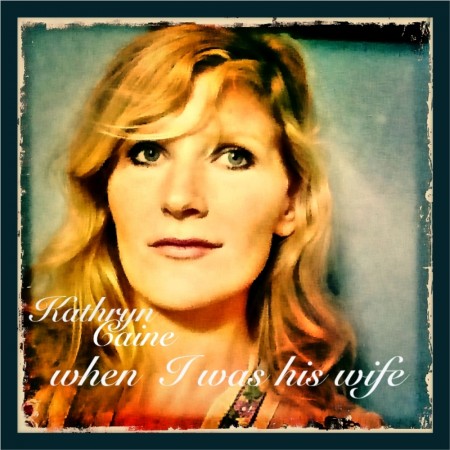 The album starts by putting its best foot forward with Forget About Me.  It's filled with sweet little one and two bar solos layered in and around the edges on a classic bluegrass, Americana tune that could be 50 years old, but was recently written by Caine.  Listening to this song it's easy to to picture yourself in the sunshine of a summer music festival just digging the sounds.  Next up is Mary, a brilliant song about faith that's more reflective than preachy.  The title track is a nice waltz with, again, the wonderful musicianship making you almost miss the sharp commentary on jealousy.  Go Your Own Way and Time On My Hands are two more entries that keep you firmly rooted in the belief that no matter how good anyone is on their own, this group is even better as a band.
That's not to say that Caine doesn't shine on her own.  Several tunes in the latter half of the album are just her and her piano.  Recorded in a church in Charlottesville, VA, they project an aura of spirituality that reflects much of the musical roots of the area without having any "gospel" sound to them.  My favorite of these is probably Nothing To Lose, with it's wry observation that youth and old age have something in common.
Looking back in the Twangville archives I see I commented on the production and engineering values of Caine's last album as well.  So the partnership of James McLaughlin and her is more than a one-time event.  Still, I have to emphasize you really want to listen to When I Was His Wife on your best speakers or headphones.  It's an aural delight.
By the way, those Tasty musicians are; Caine on piano, McLaughlin on drums and percussion, Andy Thacker on guitar and mandolin, Tom Hogge on banjo, Darrell Muller on bass, and Jay Starling on Dobro.
---
About the author:
Support new music. Listen to a band or singer you've never heard of this week. I've been doing that for over 30 years.
---