by Eli Petersen in Reviews
"I heard those sirens singing on FM radio, and darlin' they won't let me go"- James Wilson "Siren Song". Amen brother.
I can only assume that one of those sirens on FM radio were The Replacements, as they seem to be the biggest new influence on Sons of Bill. Whether it's the production of David Lowrey (Camper Van Beethoven, Cracker) or whether the band just felt like changing things up, Sirens definitely has more of jangly guitar pop feel than '09's One Town Away. Regardless, it's a pretty damn good record and should be the 'break through' record for the Charlottesville, VA band.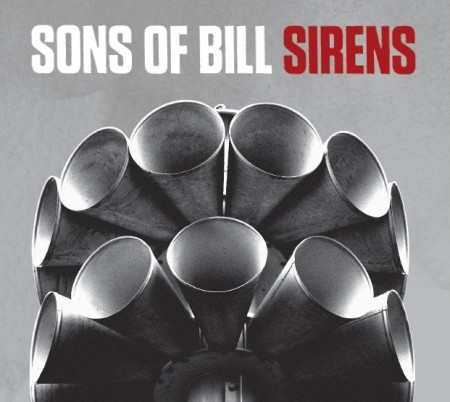 Though the band still straddles the Whiskeytown-Mike Cooley line of alternative country for the most part, the lead single "Santa Anna Winds" and the aforementioned "Siren Song" have the rock and roll attitude that draws parallels to Sons of Bill contemporaries The Gaslight Anthem. Front man James Wilson is still the principle voice on most of the tracks here and I can't complain. While I was a big fan of songs like "Joey's Arm" on One Town Away, I thought the album only had a couple really good songs, and the rest of the record didn't stick with me as much. This is not true for Sirens. I honestly can't come up with a single weak track. Not to take anything away from the younger Wilson brother, but a big part of that success is the 'other' singer, Abe Wilson, who provides great contrast on some Twangier numbers. However, it's Abe's pop side that I want to highlight next.
One of my favorite songs on the record is the 7 and half minute epic "Turn It Up." The band channels 90's power-pop heroes Teenage Fanclub for most of the song before briefly morphing into the Allman Brothers and then closing the song with some beautifully layered harmonies. The song is unprecedented for the band and signals that they have quite a bit of range beyond Twang and roll.
The closing "Virginia Calling" is vintage Sons of Bill, opening with the classic line "ain't it funny how you pray for rain/ and then bitch about the rust." Which leads me to my favorite thing about this record; the band stays the course, but expands their sound in new and fun directions. No one wants their favorite band to change, but bands can't (and shouldn't) keep making the same record over and over again. The trick is to do both.
RIYL: Whiskeytown, The Gaslight Anthem, The Replacements, Drive-By Truckers
---
About the author:
Specializes in Dead, Drunk, and Nakedness..... Former College Radio DJ and Current Craft Beer Nerd
---