by Mayer Danzig in Downloads, Folk, News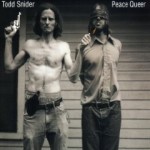 One need look no further than the title of his latest release to realize that Todd Snider has an eccentric personality. Peace Queer combines Snider's outspoken politics with his quirky sense of humor. His stark take on John Fogerty's "Fortunate Son" takes the song's anger to a deeper level.
"As an International Peace Queer, I believe that world peace is the responsibility of the individual," Snider tells Cokie Roberts in an interview available on his web site. "I'm not saying I'm necessarily a role model. But I will say that everybody has to do their part. And you can look at me for an example, if you must. I haven't killed anybody in 12 years."
Snider is offering a free digital download of the full album via his web site through October 31st. See Chip's full review here.
---
About the author:
Mild-mannered corporate executive by day, excitable Twangville denizen by night.
---