by Shawn Underwood in Alternative, Rock
There's something unexplainably exhilarating about a rapid and dramatic change in temperature.  In Russia and Scandinavia they go from a hot sauna to a leap into freezing cold water.  Where I grew up in the Midwest, we'd go from a hot, sweaty mosh pit in a club with ear-ringing decibels to the subzero outdoor environs of a February night.  The Heartless Bastards latest release, Arrow, brought me back to those times.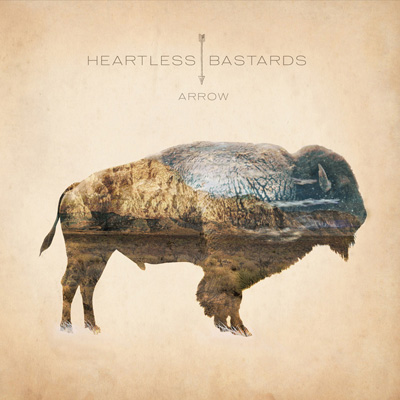 First, let me say there's a sophistication to this album that I found to be missing, or perhaps the correct phrase is "beaten into submission", in The Mountain.  It's maybe closer to All This Time in terms of the sonic variety.  Some of that may be the result of Jim Eno's (Spoon) production.  But some of it has to be a widening of genres by frontwoman Erika Wennerstrom herself.  For instance, on Only For You and Down In the Canyon her voice has a–dare I say it–silkiness that is less evident in previous efforts.  There's also Low Low Low, with a 50′s single scratchy microphone sound that just slowly sears its way into your conscious.  And Skin And Bone has nice acoustic and bongo percussion sound.
Now, back to the rock and roll and frigid winter nights comment.  Heartless Bastards really have bona fides when it comes to a sound that's better the louder you turn it up.  No one producing new music today can Marshall a relentless, driving musical attack like Wennerstrom and her bandmates.  Marathon starts slow and quiet, but just keeps building and building until the aural climax at the end makes you just want to grab a live wire.  Got To Have Rock And Roll is pretty self-explanatory and assaults you from the beginning with Joan Jett power chords.  Speaking of Jett, there are some subtle influences of 70′s rock in a couple of other songs.  Down In the Canyon starts with a Black Sabbath sounding riff.  Late In the Night even captures the 3 man wall of sound of bands like–I know this verges on blasphemy–Rush.  Through it all are the loaded-gun-dangerous Wennerstrom vocals.
If you liked The Mountain and are a Heartless Bastards fan in general, there's plenty on Arrow to get your attention.  If you're new to the Heartless Bastards, let me just ask you this question.  Do you know where on the volume control of your audio system the speakers start to be overdriven?  If so, this is the album for you.  It may not be the best album of the year; it's early after all.  But I doubt anything is going to grab you and sssshhhhake you like Arrow.
---
About the author:
Support new music. Listen to a band or singer you've never heard of this week. I've been doing that for over 30 years.
---